Information on the Type C European 2-pin Electrical Adapter Plug and Electrical Outlet
Popularly known as the Europlug, the Type C electrical plug is a two-pin unearthed plug used throughout continental Europe, parts of the Middle East, and much of Africa, South America, central Asia, and the former Soviet republics.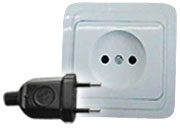 Albania, Algeria, Angola, Argentina, Austria, Azores, Balearic Islands, Bangladesh, Belgium, Bolivia, Bosnia, Brazil, Bulgaria, Burkina Faso, Burundi, Cameroon, Canary Islands, Cape Verde, Central African Republic, Channel Islands, Chile, Comoros, Congo, Croatia, Dem. Rep. of Congo (Zaire), Cote d'Ivoire (Ivory Coast), Cyrpus, Denmark, Djibouti, Egypt, El Salvador, Equatorial Guinea, Eritrea, Faeroe Islands, Finland, French Guiana, Gabon, Germany, Gibraltar, Greece, Greenland, Guadeloupe, Guinea, Guinea-Bissau, Hungary, Iceland, India, Indonesia, Iran, Iraq, Isle of Man, Israel, Italy, Kazakhstan, Korea, Kuwait, Laos, Lebanon, Lithuania, Luxembourg, Macedonia, Madagascar, Madeira, Mali, Martinique, Mauritania, Mauritius, Monaco, Montenegro, Morocco, Mozambique, Myanmar, Nepal, Netherlands, Niger, Norway, Oman, Pakistan, Paraguay, Peru, Philippines, Poland, Portugal, Romania, Russia, Rwanda, St. Vincent, Senegal, Serbia, Slovenia, Somalia, Spain, Sudan, Suriname, Sweden, Switzerland, Syria, Thailand, Togo, Tunisia, Turkey, Uruguay, Vietnam, Zambia.